Product
AQUASHUTTER

Waterproof Flexible Cement Membrane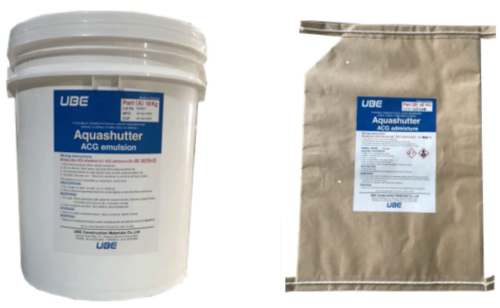 The product is a cement-based waterproofing material with two components (polymer cement), used in blending acrylic resin emulsions and special cementitious additives. Aquashutter is invented based on the technical formula of UBE Corporation and used for more than 20 years in Japan.
ACG Emulsion – Emulsion for waterproofing:
ACG emulsion is a durable acrylic emulsion and used as waterproofing agent ( ACG material) after mixing with ACG admixture.
Packing content 18 kg/PP can.
Appearance: Milky white liquid.
ACG Admixture – Admixture for Waterproofing:
ACG admixture is a alumina cement based admixture and use as waterproofing agent (ACG material) mixing with ACG emulsion.
Packing Content: 15kg/ bag
Appearance: Gray powder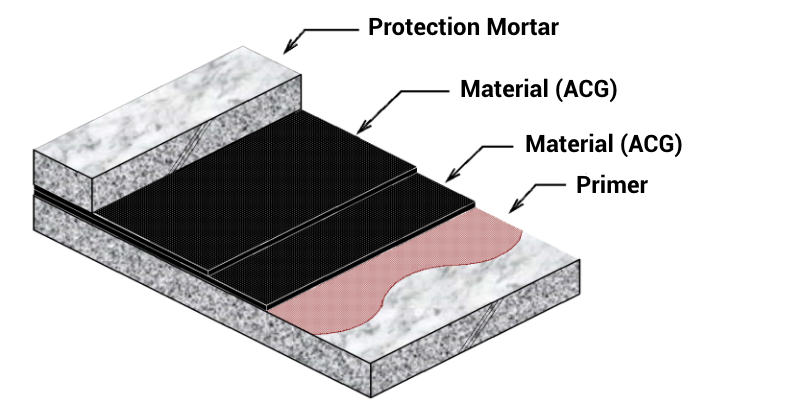 The material is similar to a Urethane coating, which is less susceptible to UV rays or hydrolysis.
In particular, Aquashutter has been highly weather-resistant, flexible elasticity, and waterproofing during a long period.
The product can be applied in waterproofing water tanks, underground interior, underground exterior, toilet, bathroom, kitchen, bathroom, trench pits, elevator pit.
Thử Nghiệm Độ Bền Aquashutter
Zero span tension elongation
Architectural Institute of Japan (Polymer-modified cement waterproofing membrane coating
1. Priming Paint:
Use ACG emulsion diluted 5 times in water. Blending ratio (weight ratio): ACG emulsion: water = 1:4
Primer with 0.2kg/m2 uniformly using a paint roller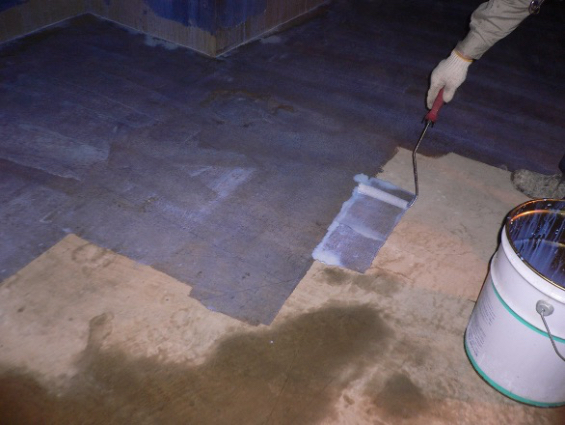 2. Mixing Instruction:
Mixing ratio ACG emulsion: ACG admixture= 18: 30 [15 × 2 bags].
Place the pure ACG Emulsion into the vessel.
Combine the ACG mixture with manual mixer.
Add two bags of ACG admixture to the above mixture.
After 3 minutes of mixing, inspect to make sure there are no lumps.
3. Waterproof Coating (ACG material) – First Coat, Top Coat
Use a steel trout to apply the waterproofing coat to the surface and then smooth the coated sealant.

Note:

Use hand force when handling to help the waterproof layer increase adhesion.
The quantity of paint used in construction is 1.2 kg / m2 (once only).
After making sure it has hardened so that it does not leave fingerprints when pressed, apply a second coat.
Verify that the pinhole on the first coat is dry before applying the second coat.
In case of pinhole appearance, fill with ACG material and proceed with the second coat until there is no pinhole of the first coat.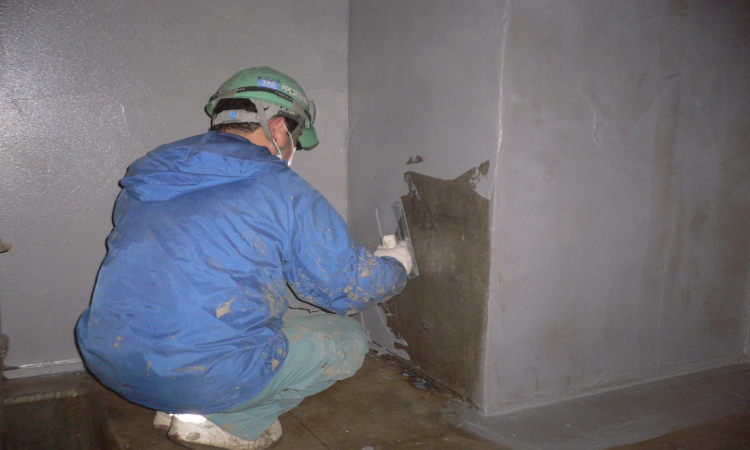 4. Maintenance:
Use a fan or similar device to adequately ventilate the waterproofing surface to prevent condensation.

If rain is forecast, construction must be shut down. If the waterproof coat is washed out by rain after application, the coating must be redone.
We look forwards to collaborating with your company. Please fill in your information, we will contact at your earliest convenience.